Westchester Public Library District
Westchester Township contains the towns of Chesterton, Porter, Dune Acres, and Burns Harbor, along with Indiana Dunes National Park and portions of Indiana Dunes National Lakeshore. Located on the southern shores of Lake Michigan, Westchester Township has a rich history of industrial growth and agricultural development, with plentiful natural beauty and quick access to the city of Chicago via interstate highways and the South Shore Line.
History of Westchester Public Library
In the early 1900s, library service in Westchester Township was provided by two separate, small libraries. The Town of Porter operated a library, opened in 1914, to serve its residents, and beginning in 1919, the rest of Westchester Township received library service through a satellite location of the Gary Public Library.
Township residents eventually determined that library services from the existing facilities were highly valued but insufficient to meet the growing needs of the community. They proposed merging library services throughout Westchester Township to create a single town-township public library with the means to offer increased and improved services and facilities.
Westchester Public Library was created in 1972 under the Public Library Law of 1947, which permitted the Township to merge with the Town of Porter, establishing a new municipal corporation serving all Township residents. In 1973, construction of new facilities began, resulting in the Thomas Branch in Chesterton and the Hageman Branch in Porter, both of which were completed and opened to the public in 1975.
In 1995, the Library acquired a building one block from its Thomas Branch and remodeled it to contain a large, public meeting room with adjoining kitchen; the Library Technical Services Department; and a dedicated space for the Chesterton Adult Learning Center. Originally named the Library Service Center, in 2015 it was renamed the Baugher Center in honor of longtime Westchester Public Library Director, Phil Baugher.
In 2005, the Library arranged with the Duneland School Corporation the lease of the historic Brown Mansion on Porter Avenue, to house and expand the Westchester Township History Museum, services of which the Library developed as an educational offering beginning in 1988.
Throughout the years, Westchester Public Library has enjoyed tremendous and loyal support from its community, and consistently strives to offer outstanding services and materials to residents and visitors alike.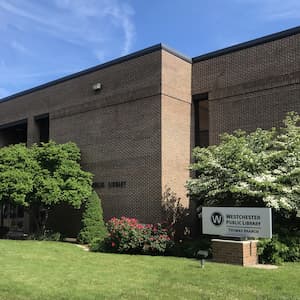 Westchester Township History Museum